FEATURED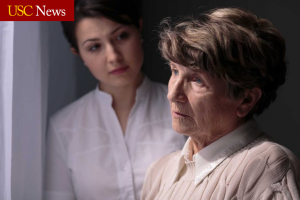 Twenty years ago, a seminal research study suggested that genetically vulnerable women–those with one copy of the ApoE4 gene variant–were 50% more likely to develop Alzheimer's disease than men with the same genetic profile.
In August, LONI researchers published a study in JAMA Neurology that used increased statistical power to reexamine the finding, and discovered something new and surprising about the link between age, gender, and Alzheimer's risk.
Data from more than 57,000 people were used for the study, thanks to the Global Alzheimer's Association Interactive Network (GAAIN), a worldwide big data dementia science initiative.
Click here to view the article in JAMA Neurology.
PUBLICATIONS
Below is a summary of all publications organized by type and year in reverse chronological order since the inception of the LONIR in 1998.
Publications in 2019:
Ning K, Zhao L, Matloff W, Sun F & Toga AW 2019  Association of relative brain age with tobacco smoking, alcohol consumption, and genetic variants. Scientific Reports.
Xu F, Ge X, Shi Y, Zhang Z, Tang Y, Lin X, Teng G, Zang F, Gao N, Liu H, Toga AW & Liu S 2019  Morphometric Development of the Human Fetal Cerebellum during the Early Second Trimester. PMID: 31751665
Kim H, Irimia A, Hobel SM, Esquivel Castelo-Blanco RI, Duffy B, Zhao L, Crawford KL, Liew SL, Clark K, Law M, Manley GT, Van Horn JD & Toga AW 2019  LONI QC system: A Semi-Automated, Web-Based And Freely-Available Environment For The Comprehensive Quality Control Of Neuroimaging Data. Frontiers in Neuroinformatics. PMID: 31555116; PMCID:PMC6722229
Ma S, Sarabi MS, Yan L, Shao X, Chen Y, Yang Q, Jann K, Toga AW, Shi Y & Wang D 2019  Characterization Of Lenticulostriate Arteries With High Resolution Black-Blood T1-Weighted Turbo Spin Echo With Variable Flip Angles At 3 And 7 Tesla. 199:184-193.
Moyer D, Thompson PM & Ver Steeg G 2019  Measures of Tractography Convergence. arXiv.
Van Velzen L, Kelly S, Isaev D, Aftanas L, Bauer J, Baune B, Brack I, Carballedo A, Connolly C, Couvy-Duchesne B, Cullen K, Czisch M, Danilenko KV, Dannlowski U, Enneking V, Filimonova E, Förster K, Frodl T, Gotlib I, Groenewold N, Grotegerd D, Harris M, Hatton S, Hawkins E, Hickie I, Ho T, Jansen A, Kircher T, Klimes-Dougan B, Krug A, Lagopoulos J, Lee R, Lett T, Li M, McMaster F, Martin N, Mcintosh A, McLellan Q, Meinert S, Nenadic I, Osipov E, Penninx BWJH, Portella M, Repple J, Roos A, Sacchet M, Saemann P, Schnell K, Shen X, Sim K, Stein D, van Tol MJ, Tomyshev A, Veer I, Vermeiren R, Vives-Gilabert Y, Walter H, Walter M, van der Wee N, van der Werff S, Westlund Schreiner M, Whalley H, Wright M, Yang T, Tozzi L, Zhu A, Veltman D, Thompson PM, Jahanshad N & Schmaal L 2019  White matter disturbances in major depressive disorder: a coordinated analysis across 20 international cohorts in the ENIGMA MDD working group. Molecular Psychiatry. PMID: 31471575
Villalón-Reina JE, Martínez K, Qu X, Ching C, Nir TM, Kothapalli D, Corbin C, Sun D, Lin A, Forsyth JK, Kushan L, Vajdi A, Jalbrzikowski M, Hansen L, Jonas RK, Van Amelsvoort T, Bakker G, Kates WR, Antshel KM, Fremont W, Campbell LE, McCabe KL, Daly E, Gudbrandsen M, Murphy C, Murphy D, Craig M, Emanuel B, McDonald-McGinn D, Vorstman J, Fiksinski A, Koops S, Ruparel K, Roalf D, Gur RE, Schmitt JE, Simon TJ, Goodrich-Hunsaker NJ, Durdle CA, Doherty J, Cunningham AC, Van den Bree M, Linden DEJ, Owen M, Moss H, Kelly S, Donohoe G, Murphy KC, Arango C, Jahanshad N, Thompson PM & Bearden CE 2019  Altered White Matter Microstructure in 22q11.2 Deletion Syndrome: A Multi-Site Diffusion Tensor Imaging Study. Molecular Psychiatry. PMID: 31358905.
Favre P, Pauling M, Stout J, Hozer F, Sarrazin S, Abé C, Alda M, Alloza C, Alonso-Lana S, Andreassen OA, Baune BT, Benedetti F, Busatto GF, Canales-Rodríguez EJ, Caseras X, Chaim-Avancini TM, Ching CRK, Dannlowski U, Deppe M, Eyler LT, Fatjo-Vilas M, Foley SF, Grotegerd D, Hajek T, Haukvik UK, Howells FM, Jahanshad N, Kugel H, Lagerberg TV, Lawrie SM, Linke JO, McIntosh A, Melloni EMT, Mitchell PB, Polosan M, Pomarol-Clotet E, Repple J, Roberts G, Roos A, Rosa PGP, Salvador R, Sarró S, Schofield PR, Serpa MH, Sim K, Stein DJ, Sussmann JE, Temmingh HS, Thompson PM, Verdolini N, Vieta E, Wessa M, Whalley HC, Zanetti MV, Leboyer M, Mangin JF, Henry C, Duchesnay E, Houenou J, ENIGMA Bipolar Disorder Working Group 2019 Widespread White Matter Microstructural Abnormalities In Bipolar Disorder: Evidence From Mega- And Meta-Analyses Across 3033 Individuals. Neuropsychopharmacology. Dec;44(13):2285-2293. PMID: 31434102
Kuhn T, Jin Y, Huang C, Kim Y, Nir TM, Gullett JM, Jones JD, Sayegh P, Chung C, Dang BH, Singer EJ, Shattuck DW, Jahanshad N, Bookheimer SY, Hinkin CH, Zhu H, Thompson PM & Thames AD 2019  The Joint Effect Of Aging And HIV Infection On Microstructure Of White Matter Bundles. Human Brain Mapping. PMID: 31271489.
Kochunov P, Huang J, Chen S, Li Y, Tan S, Fan F, Feng W, Wang Y, Rowland LM, Savransky A, Du X, Chiappelli J, Chen S, Jahanshad N, Thompson PM, Ryan MC, Adhikari B, Sampath H, Cui Y, Wang Z, Yang F, Tan Y & Hong LE 2019  White Matter in Schizophrenia Treatment Resistance. American Journal of Psychiatry. PMID: 31352812
Soheili-Nezhad S, Sedghi A, Schweser F, Eslami Shahr Babaki A, Jahanshad N, Thompson PM, Beckmann CF, Sprooten E & Toghae M 2019  Structural and Functional Reorganization of the Brain in Migraine Without Aura. Frontiers in Neurology. 10:442. PMID: 31133962; PMCID: PMC6515892.
Zavaliangos-Petropulu A, Nir TM, Thomopoulos SI, Reid RI, Bernstein MA, Borowski B, Jack CR, Jr., Weiner MW, Jahanshad N & Thompson PM 2019  Diffusion MRI Indices and Their Relation to Cognitive Impairment in Brain Aging: The Updated Multi-protocol Approach in ADNI3. Frontiers in Neuroinformatics. PMID: 30837858; PMCID: PMC6390411.
Kochunov P, Donohue B, Mitchell BD, Ganjgahi H, Adhikari B, Ryan M, Medland SE, Jahanshad N, Thompson PM, Blangero J, Fieremans E, Novikov DS, Marcus D, Van Essen DC, Glahn DC, Elliot Hong L & Nichols TE 2019  Genomic kinship construction to enhance genetic analyses in the human connectome project data. Human Brain Mapping. PMID: 30496643; PMCID:PMC6483073
Shen L & Thompson PM 2019   Imaging Genomics: Integrated Analysis & Machine Learning, Proc. IEEE, invited review paper, Special Issue, ed. James Duncan et al.
Sepehrband F, Cabeen RP, Barisano G, Sheikh-Bahaei N, Choupan J, Law M, Toga AW & Alzheimer's Disease Neuroimaging Initiative 2019   Nonparenchymal fluid is the source of increased mean diffusivity in preclinical Alzheimer's disease. Alzheimer's & Dementia: Diagnosis, Assessment & Disease Monitoring, 11, 348-354. PMID: 31049392; PMCID: PMC6479267
Sepehrband F, Cabeen RP, Choupan J, Barisano G, Law M, Toga AW & Alzheimer's Disease Neuroimaging Initiative. 2019  Perivascular space fluid contributes to diffusion tensor imaging changes in white matter. NeuroImage, 197, 243-254. PMID: 31051291; PMCID:PMC6591070
Nath V, Schilling KG, Parvathaneni P, Huo Y, Blaber JA, Hainline AE, Barakovic M, Romascano D, Rafael‐Patino J, Frigo M., Girard G, Thiran J, Daducci A, Rowe M, Rodrigues P, Prčkovska V, Aydogan DB, Sun W, Shi Y, Parker WA, Ould I AA, Verma R, Cabeen RP, Toga AW, Newton AT, Wasserthal J, Neher P, Maier‐Hein K, Savini G, Palesi F, Kaden E, Wu Y, He J, Feng Y, Paquette M, Rheault F, Sidhu J, Lebel C, Leemans A, Descoteaux M, Dyrby TB, Kang H & Landman BA 2019  Tractography reproducibility challenge with empirical data (TraCED): The 2017 ISMRM diffusion study group challenge. Journal for Magnetic Reasoning Imaging, 51(1):234-249. PMID:31179595; PMCID: PMC6900461
Schilling KG, Nath V, Hansen C, Parvathaneni P, Blaber J, Gao Y, Neher P, Aydogan DB, Shi Y, Ocampo-Pineda M, Schiavi S, Daducci A, Girard G, Barakovic M, Rafael-Patino J, Romascano D, Rensonnet G, Pizzolato M, Bates A, Fischi E, Thiran JP, Canales-Rodríguez EJ, Huang C, Zhu H, Zhong L, Cabeen RP, Toga AW, Rheault F, Theaud G, Houde JC, Sidhu J, Chamberland M, Westin CF, Dyrby TB, Verma R, Rathi Y, Irfanoglu MO, Thomas C, Pierpaoli C, Descoteaux M, Anderson AW & Landman BA 2019 Limits to anatomical accuracy of diffusion tractography using modern approaches. NeuroImage, 185:1-11. PMID:30317017; PMCID: PMC6551229
Salminen LE, Morey RA, Riedel BC, Jahanshad N, Dennis EL & Thompson PM. 2019  Adaptive Identification of Cortical and Subcortical Imaging Markers of Early Life Stress and Posttraumatic Stress Disorder. Journal of Neuroimaging, 29(3):335-343, PMID: 30714246; PMCID: PMC6571150; DOI: 10.1111/jon.12600.
Sta Cruz S, Dinov ID, Herting MM, González-Zacarías C, Kim H, Toga AW & Sepehrband F 2019 Imputation Strategy for Reliable Regional MRI Morphological Measurements. Neuroinformatics. PMID:31054076; PMCID:PMC6829024; DOI: 10.1007/s12021-019-09426-x.
Khansari MM, Zhang J, Qiao Y, Gahm JK, Sarabi MS, Kashani AH & Shi Y 2019 Automated Deformation-Based Analysis of 3D Optical Coherence Tomography in Diabetic Retinopathy. IEEE. PMID: 31247547; DOI: 10.1109/TMI.2019.2924452.
Lynch KM, Shi Y, Toga AW & Clark KA 2019 Hippocampal Shape Maturation In Childhood And Adolescence. Cerebral Cortex, 29(9):3651-3665.
Simuni T, Uribe L, Cho HR, Caspell-Garcia C, Coffey CS, Siderowf A, Trojanowski JQ, Shaw LM, Seibyl J, Singleton A, Toga AW, Galasko D, Foroud T, Tosun D, Poston K, Weintraub D, Mollenhauer B, Tanner CM, Kieburtz K, Chahine LM, Reimer A, Hutten SJ, Bressman S & Marek K; PPMI Investigators 2019 Clinical and dopamine transporter imaging characteristics of non-manifest LRRK2 and GBA mutation carriers in the Parkinson's Progression Markers Initiative (PPMI): a cross-sectional study. Lancet Neurol. pii: S1474-4422(19)30319-9. PMID: 31678032
Wei K, Tran T, Chu K, Borzage MT, Braskie MN, Harrington MG & King K 2019  White Matter Hypointensities and Hyperintensities have Equivalent Correlations with Age and CSF b-amyloid and Tau in Non-demented elderly. Brain and Behavior. 9(12):e01457. PMID:31692294.
Tubi M, Feingold FW, Kothapalli D, Hare ET, King KS, Thompson PM, Braskie MN & ADNI. 2019  White matter hyperintensities and their relationship to cognition: effects of segmentation algorithm. NeuroImage. 1:116327 PMID: 31682983
Zhang J, Qiao Y, Sarabi MS, Gahm JK, Kashani AH & Shi Y 2019  3D shape modeling and analysis of retinal microvasculature in OCT-Angiography images, IEEE Transactions on Medical Imaging. [Epub ahead of print]. PMID: 31647423
Qiao Y, Sun W, Shi Y. 2019  FOD-based registration for susceptibility distortion correction in brainstem connectome imaging, NeuroImage. 202:116164. PMID: 31505273; PMCID: PMC6819272
Matloff W, Zhao L, Ning K, Conti D & Toga AW 2019  Interaction effect of alcohol consumption and Alzheimer disease polygenic risk score on the brain cortical thickness of cognitively normal subjects. pii: S0741-8329(19)30133-8. PMID: 31734309